Posts Tagged by
Deianeira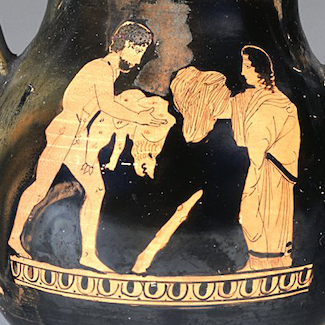 2019.09.20 | By Gregory Nagy
§0. Picking up from where I left off in my essay TC VIII in Classical Inquiries 2019.09.13, I continue here in TC IX with further observations about difficulties or "rough patches" to be encountered in any attempt to reconstruct a prototype for the hero Hēraklēs on the basis of the various different ancient Greek myths that were told about him. Such difficulties, as we just saw in TC VIII, can be traced back to the myths themselves, which occasionally reveal inconsistencies that were never completely smoothed over in the traditions of ancient Greek mythmaking. Some of these inconsistencies have to do with contradictions in details, which can usually be explained as resulting from localized variations in mythmaking, as for example when Hēraklēs performs a short-term service for the king Augeias of Elis—a service that is in some ways different, from the standpoint of our hero's overall "program" of Labors, from the long-term services that Hēraklēs performs for the king Eurystheus of Mycenae. But there are also other cases where the inconsistencies had been built into the myths themselves. Such cases center on contradictions that reflect badly on the "good character" of the hero, as for example when Hēraklēs becomes an exponent of "vice"—in stark contrast to his conventional reputation as an exponent of "virtue." To illustrate a moment in the life of Hēraklēs where we see such an exceptionally negative side of the hero, I show here an ancient vase painting where Hēraklēs is pictured in the act of giving up his lionskin, trading it in, as it were, so that he may now wear instead an ultimately deadly robe that is smeared with the excretions of a vicious Centaur. This act of exchanging the heroic lionskin for a robe of death is symbolic, as we will see, of what is recognized by experts in comparative mythology as one of the three great "sins" committed by Hēraklēs in his lifetime.
[
Essay continues here…
]

2019.07.12 | By Gregory Nagy
§0. As I indicated in the previous posting, in Classical Inquiries 2019.07.06, the aim of the brief follow-up essay that I offer here in the present posting, 2019.07.12, is to connect a myth about the apotheosis of Hēraklēs on Mount Olympus with a myth that credits this same hero with the original founding of the Olympics.
[
Essay continues here…
]

2019.04.19 | By Gregory Nagy
§0.This posting, written 2019.04.19, picks up from where I left off in Classical Inquiries 2019.03.22, rewritten 2019.04.17. In the last paragraph of that posting, I focused on a myth that told about a defeat of the Centaurs, beastly hominoids who were half horse, half man. Such a mythological event is pictured in the sculptures of the west pediment of the temple of Zeus in Olympia, created around the middle of the fifth century BCE. And I have a basic question to ask about the picturing of this event: in our own reading, as it were, of the pedimental sculptures, who exactly were the mythological characters who defeated the Centaurs? In other words, how are we to imagine this primal event?
[
Essay continues here…
]