Posts Tagged by
Dorian dialect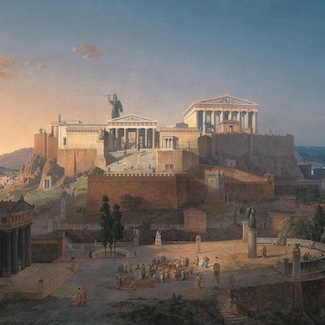 2020.05.08 | By Gregory Nagy
§0. In the previous posting, Classical Inquiries 2020.05.01, I asked this question: is 'Athena' the name of a person or of a place? And my answer was: 'Athena' is the name of a place that we know as Athens. I backed up that answer by arguing against the assumption that the city of Athens was named after a goddess who was already named 'Athena'. Rather, I argued for a different idea: that the goddess Athena was named after Athens—or, to be more precise, after the citadel or acropolis of Athens. But that is not the same thing as arguing that Athens came first, as it were, and that the goddess named Athena came second. I was making an argument about the name of Athena, not about her identity. And, as I argue more fully in this posting, it is only the naming of the goddess as Athena that came second, but the idea of the goddess came first: she was already there, if we view her theologically. The goddess seems secondary only if we make the mistake of equating her name with who she is as a goddess, as a divinity who is worshipped by her people. As a goddess, Athena is her own person, whatever her name may be. It is only when we view her name etymologically, that is, from the standpoint of linguistics, that Athḗnē can be explained as the name of a place. Yes, the name is a place-name, as I showed in the previous posting. But she is not the name. As I just said, she is her own person. And, as a person, as a divine persona, she personifies whatever is mentally connected with her. In the painting I have chosen for the lead illustration, we view the solitary goddess looming over her acropolis. Her bronze statue, no longer extant, is seen here in the eternal role of this goddess as guardian of her city and her people. That is how she connects with her own space, and with everything that she personifies in that space.
[
Essay continues here…
]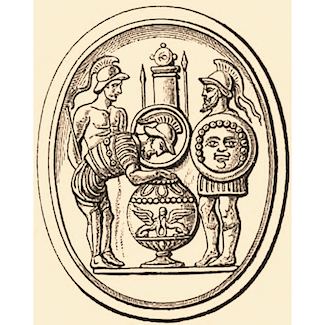 2019.11.08 | By Gregory Nagy
§0. In the logic of ancient Greek myths centering on the hero Hēraklēs, as we have seen cumulatively in the series of essays bearing the title "Thinking comparatively about Greek Mythology" ("TC" I through XVI so far), this hero is always pictured as a kingmaker, never as a king. But what about the sons of Hēraklēs? I ask such a question in view of the mythological fact that this hero, in the course of his countless adventures, fathers countless children, left and right. And the answer to my question is quite clear: in myths about the male descendants of Hēraklēs—and the lineages of such descendants are known generically as Hērakleidai (Heracleidae), meaning 'sons of Hēraklēs'—we see that such 'sons' are consistently destined to become kings, not just kingmakers. Some myths about lineages of Hērakleidai tend to be more localized, while others are more Panhellenizing, but the most Panhellenizing versions of all such myths about royal male descendants of Hēraklēs are centered on one son in particular. His name is Hyllos, married to Iolē, the newest wife that Hēraklēs never had. This Hyllos fathers three brothers named (1) Tēmenos, (2) Aristodēmos, and (3) Kresphontēs, who become the prototypical ancestors of the three main dynasties ruling over the Peloponnesus in the first millennium BCE, namely, the kingdoms of (1) Argos, (2) Sparta, and (3) Messene. Which one of the three brothers became king over which one of these three kingdoms was determined by way of drawing lots, as represented in the illustration that introduces my essay here. What I intend to show in this essay is that such myths about the dividing of the Peloponnesus into three kingdoms—linked to myths about an invasion of the Peloponnesus by Dorians led by the Hērakleidai—are relevant to various different theories about dialectal variation in the Greek language as spoken in the second millennium BCE.
[
Essay continues here…
]