Posts Tagged by
Elysium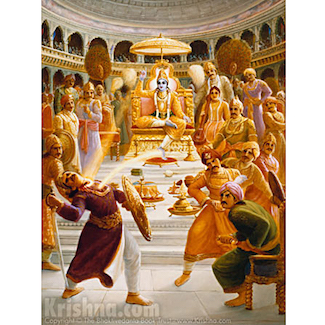 2019.08.08 | By Gregory Nagy
§0. So far, I have been comparing Greek myths about the hero Hēraklēs with Old Norse myths about the hero Starkaðr, concentrating on details that these myths have in common. Now I add to the comparison some further details to be found in an Indic myth about the hero Śiśupāla as featured in the Sanskrit epic known as the Mahābhārata. This Śiśupāla is antagonistic with Krishna, to whom I will hereafter refer as Kṛṣṇa—and who is an incarnation of the god Viṣṇu. But, despite this antagonism between the hero Śiśupāla and the god Viṣṇu/Kṛṣṇa, the hero becomes a devotee of the god at the very moment when Kṛṣṇa kills Śiśupāla. Here is how it happens: Kṛṣṇa, activating his sacred weapon, which is a solar disk, throws it at Śiśupāla, and the disk of the god incarnate beheads the antagonistic hero. At the precise moment of this sacral beheading, which is pictured in the cover illustration I show here, a tejas- 'flash-of-light' is seen coming out of the gap between the beheaded hero's head and body—while going into the body of the god Kṛṣṇa/Viṣṇu, all in an instant. There is a comparable moment in the myth about the death of Hēraklēs, paraphrased and analyzed in H24H 1§§46–47. My earlier analysis, however, can now be enhanced by comparing details in the Greek myth with details that I have just highlighted in the comparable Indic myth.
[
Essay continues here…
]

2019.07.12 | By Gregory Nagy
§0. As I indicated in the previous posting, in Classical Inquiries 2019.07.06, the aim of the brief follow-up essay that I offer here in the present posting, 2019.07.12, is to connect a myth about the apotheosis of Hēraklēs on Mount Olympus with a myth that credits this same hero with the original founding of the Olympics.
[
Essay continues here…
]