Posts Tagged by
Epic Cycle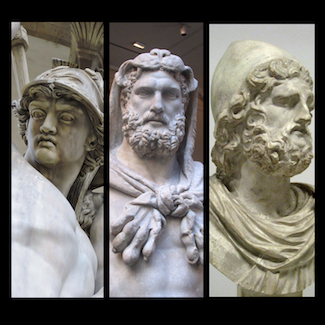 2019.10.04 | By Gregory Nagy
§0. This essay, dated 2019.10.04, for which I give the abbreviated title TC XI, continues from the essay TC X, dated 2019.09.27, the subtitle for which was "A Homeric lens for viewing Hēraklēs." In the subtitle for TC XI here, "Homeric marginalizations of Hēraklēs as an epic hero," I view the term "Homeric" more narrowly than the term "epic." To put it more accurately, I view Homeric poetry is a special kind of Greek epic poetry, not the general kind as reconstructed by way of comparative philology. And my point is that the heroic character of Hēraklēs, while he is central to epic poetry as reconstructed by comparatists, has become marginalized in Homeric poetry, where the central heroic characters are Achilles and Odysseus. In the illustration for my essay here, I show by way of a three-part picture this trio of heroes—Achilles, Hēraklēs, Odysseus—as imagined by artists. I have positioned Hēraklēs at the center of the three-part picture, indicating this hero's centrality in the epic tradition inherited by Homeric poetry. In terms of the point I am making in this essay, however, Homeric poetry would have squeezed out Hēraklēs from the center of our three-part picture, and we would now have to look for him at the two margins of what could now be rethought as a four-part picture. So, we would now find Hēraklēs to the left of Achilles and we would find another Hēraklēs to the right of Odysseus. In Homeric poetry, after, all, Hēraklēs no longer has a single central role but rather a dual marginal role, both as an older version of Achilles and as an older version of Odysseus.
[
Essay continues here…
]

2015.12.24 | By Gregory Nagy
I argue that the figure of Homer in the lyric songmaking of Pindar is envisioned as the poet of all epic, not only of the Iliad and the Odyssey as we know them. At the core of my argumentation here is the earliest reconstructable meaning of the word kuklos (κύκλος) as applied to the Epic Cycle. In terms of such an application, kuklos refers to all poetry composed by Homer. Such a meaning of kuklos as the sum total of Homeric poetry goes back to a metaphorical use of the word in the sense of 'chariot wheel'. In Homeric diction, kuklos actually means 'chariot wheel' (Iliad 23.340, plural κύκλα at 5.722). Connected with this idea of kuklos as a chariot wheel is the meaning of the name 'Homer', that is, of Homēros (Ὅμηρος). This name is a nomen loquens or 'speaking name' derived from the noun homēros, to be explained etymologically as a compound meaning 'the one who fits/joins together'. In terms of this etymological explanation, Homēros (Ὅμηρος) is a metaphor: the poet Homer is 'the one who fits [the song] together'—as if the song were 'the Cycle' in the sense of a kuklos or 'chariot wheel'. Homer as the master poet 'fits together' pieces of song that are made ready to be parts of an integrated whole just as a master carpenter or joiner 'fits together' or 'joins' pieces of wood that are made ready to be parts of a chariot wheel.
[
Essay continues here…
]