Posts Tagged by
Eurytion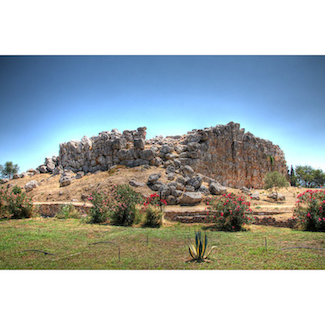 2019.10.11 | By Gregory Nagy
§0. The glory days of Tiryns, a stronghold that once controlled access to Mycenae from the sea, came to an end toward the end of the second millennium BCE, that is, around the same time that marked the collapse of the Mycenaean Empire. But the splendidly massive stone walls of the "palace" at Tiryns endured well after that time, throughout the first millennium BCE and beyond, down into the historical era, and even down to our own present time. I am hardly the only person today who has entertained the thought that the very sight of these walls represents, at least on the surface, perhaps the most spectacular survival of material culture stemming from the prehistoric Greek world. In Iliad 2.559, such an impression is reaffirmed: here the stronghold of Tiryns in the heroic age is already being celebrated for its single most outstanding feature, which is, its imposing walls (teikhioessa 'the walled [stronghold]'). The massive stones used for building the walls were known in the ancient world as 'Cyclopean', on the grounds that only such gigantic figures as the Cyclopes could possibly have ever lifted them. That is what we read, for example, in a source dating from the second century CE, in the writings of the traveler Pausanias (9.36.5). Having personally viewed the site, Pausanias adds (2.25.8) that a team of mules pulling together could not have budged even the smaller Cyclopean stones of these mighty walls. The stunning visual impact of the walls of Tiryns comes through even in photographs, as we can see from the illustrations that I show in my posting here. And, matching the grandness of this ancient site, there is the grandness of its heroic prestige. Myth tells us that the grandest of all Greek heroes, Hēraklēs, was stationed primarily at Tiryns.
[
Essay continues here…
]

2019.04.19 | By Gregory Nagy
§0.This posting, written 2019.04.19, picks up from where I left off in Classical Inquiries 2019.03.22, rewritten 2019.04.17. In the last paragraph of that posting, I focused on a myth that told about a defeat of the Centaurs, beastly hominoids who were half horse, half man. Such a mythological event is pictured in the sculptures of the west pediment of the temple of Zeus in Olympia, created around the middle of the fifth century BCE. And I have a basic question to ask about the picturing of this event: in our own reading, as it were, of the pedimental sculptures, who exactly were the mythological characters who defeated the Centaurs? In other words, how are we to imagine this primal event?
[
Essay continues here…
]