Posts Tagged by
Heracleidae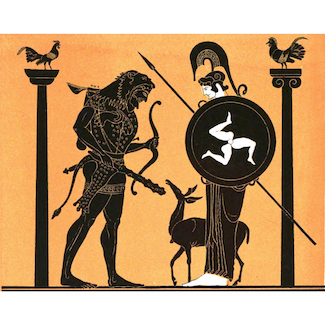 2019.11.15 | By Gregory Nagy
§0. On a most memorable day, 2019.11.08, a special event took place at the Center for Hellenic Studies in Washington, DC. The event, organized by Rachele Pierini, a current Fellow at the Center, was a far-ranging informal conversation about any and all things Mycenaean. The participants, besides the organizer, included a genial guest who was visiting the Center, Thomas G. Palaima; also participating were Roger Woodard, Leonard Muellner, Eric Cline, myself, and, "beaming in" from Iraklion in Crete, Georgia Flouda. Another participant, invited as a valued expert in comparanda stemming from the post-Mycenaean era, was Diane Harris Cline. For our conversation on that day, the keynote speaker—or, to say it much better, our highlighted conversationalist—was our dear friend Tom Palaima, whom I described as "the current doyen of Mycenologists" in an essay I posted on that same day in Classical Inquiries, TC XVI. That essay of mine, meant as a supplementary contribution to our conversation, centered on myths about a "Dorian Invasion" led by kingly 'sons' of Hēraklēs the kingmaker. Pivotal for the argumentation in my essay was an article by Tom (Palaima 2002) where he examines what I call "substandard" dialectal features that are sporadically attested in the Linear B texts of the Mycenaean palaces—by contrast with the standard dialect reflected in those texts. As we will see in this present essay of mine, posted one week later in Classical Inquiries, Tom's article is relevant to the question I ask in my title for the day: was Hēraklēs a Dorian? The illustration that is featured here as an introduction to my essay, where we see a visual pairing of the hero with a Doric column, will also be relevant to my question, which had been one of many questions that came up during the conversation of 2019.11.08 with Tom Palaima. All of us attending kept mental notes, referring to these notes as "placeholders," written records of which can be linked together by way of annotations in a planned series of postings for Classical Inquiries. The present posting is merely the first such placeholder in the series, starting with the question: was Hēraklēs a Dorian?
[
Essay continues here…
]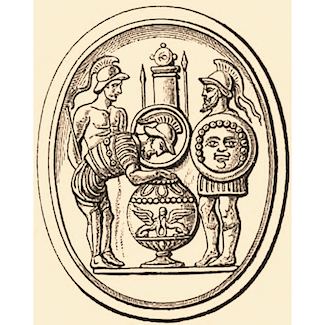 2019.11.08 | By Gregory Nagy
§0. In the logic of ancient Greek myths centering on the hero Hēraklēs, as we have seen cumulatively in the series of essays bearing the title "Thinking comparatively about Greek Mythology" ("TC" I through XVI so far), this hero is always pictured as a kingmaker, never as a king. But what about the sons of Hēraklēs? I ask such a question in view of the mythological fact that this hero, in the course of his countless adventures, fathers countless children, left and right. And the answer to my question is quite clear: in myths about the male descendants of Hēraklēs—and the lineages of such descendants are known generically as Hērakleidai (Heracleidae), meaning 'sons of Hēraklēs'—we see that such 'sons' are consistently destined to become kings, not just kingmakers. Some myths about lineages of Hērakleidai tend to be more localized, while others are more Panhellenizing, but the most Panhellenizing versions of all such myths about royal male descendants of Hēraklēs are centered on one son in particular. His name is Hyllos, married to Iolē, the newest wife that Hēraklēs never had. This Hyllos fathers three brothers named (1) Tēmenos, (2) Aristodēmos, and (3) Kresphontēs, who become the prototypical ancestors of the three main dynasties ruling over the Peloponnesus in the first millennium BCE, namely, the kingdoms of (1) Argos, (2) Sparta, and (3) Messene. Which one of the three brothers became king over which one of these three kingdoms was determined by way of drawing lots, as represented in the illustration that introduces my essay here. What I intend to show in this essay is that such myths about the dividing of the Peloponnesus into three kingdoms—linked to myths about an invasion of the Peloponnesus by Dorians led by the Hērakleidai—are relevant to various different theories about dialectal variation in the Greek language as spoken in the second millennium BCE.
[
Essay continues here…
]