Posts Tagged by
Life of Ferdowsi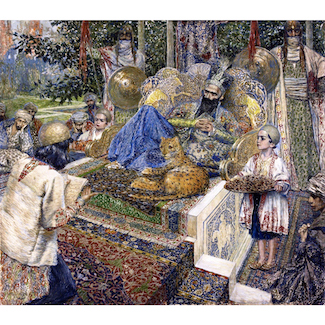 2020.03.02 | By Olga M. Davidson
The focus here is on two Persianate texts. The first is the monumental poem of a poet retrospectively named Ferdowsi, or 'man of paradise', who lived in the late 10th and early 11th century CE. The second text is in prose: it is a comparably monumental preface to a lavish new edition of the Shahnama that was commissioned in 1426 CE and published in 1430 under the aegis of a Timurid prince named Bāysonghor. The preface, likewise commissioned by the prince, asserts that the Shahnama is a model of ecumenism and globalism for readers of this new edition, produced over 400 years after the poem of Ferdowsi was first put together.
[
Essay continues here…
]

2015.12.18 | By Gregory Nagy
The combined research of Nagy and Davidson on ancient "Life of Homer" and medieval "Life of Ferdowsi" narratives respectively has shown that the traditional "biographies" about these two poets, as transmitted by a vast variety of communities, can be studied as sources of historical information about the reception of Homer and Ferdowsi.
[
Essay continues here…
]

2015.12.17 | By Olga Davidson
In a previous study, I argued that the historicized narrative of the so-called Older Preface to the Shahnama of Ferdowsi is strikingly parallel to Ferdowsi's own poeticized narrative concerning the genesis of the Book of Kings. In the present study, I make a parallel argument with regard to the Bâysonghori Preface. This text is the preface to the Bâysonghori Shahnama, a fifteenth century manuscript commissioned by the Timurid prince Ghiath-al-Din Bâysonghor b. Shāhrokh (d. 837 / 1433) in 829 / 1426 and completed in 833 / 1430 (30th of January) by Mawlana Ja'far Bâysonghori, a Tabrizi calligrapher who appears to have also served as the librarian to the prince.
[
Essay continues here…
]