Posts Tagged by
Lion of Nemea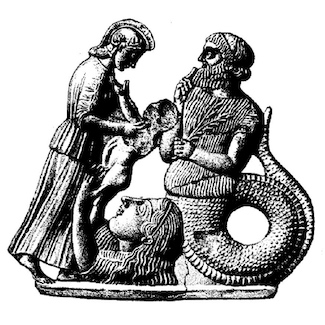 2020.04.10 | By Gregory Nagy
§0. My essay here concentrates on myths about two Greek goddesses and on their roles as mothers or would-be mothers:
(A) The first goddess is Hērā in her role as mother or would-be mother of a serpentine Titan by the name of Typhon, alternatively called Typhoeus, who is destined to become a most dangerous menace to the sovereignty of Zeus.
(B) The second goddess is Athena in her role as would-be mother of a serpentine human by the name of Erikhthonios, alternatively called Erekhtheus, who is destined to become the ancestor of all Greeks native to the city of Athens. The ancient image that I choose as the lead-off illustration shows another goddess, Gaia/Ge or Mother Earth herself, who is seen emerging from underground and presenting her very own baby boy to the goddess Athena, who receives the child. Athena will raise the baby in her role as mother of a son she "never" had. Looking on, in the same image, is a figure whose upper half is human while his lower half is serpentine. He is known as Kekrops to the people of Athens. In this version of the many surviving visual representations of such a scene, the baby boy is not marked by any overtly serpentine features. In other versions, however, as we will see, the baby too, like Kekrops, is pictured as half-human, half-serpent.
[
Essay continues here…
]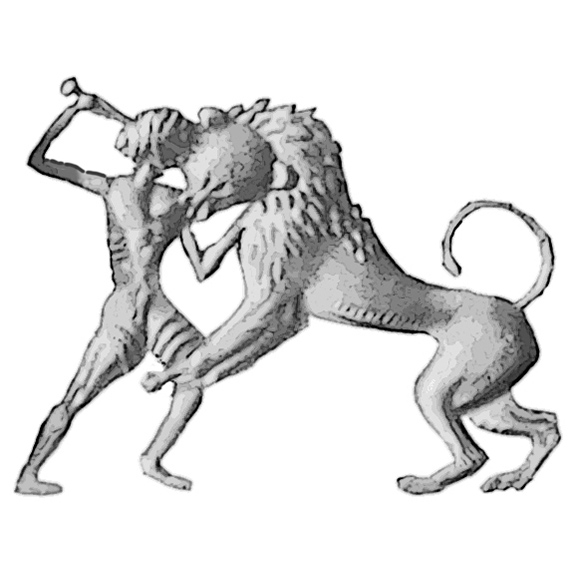 2019.08.30 | By Gregory Nagy
§0. I have already commented on a set of myths known as the twelve Labors of Hēraklēs, and also on a multitude of further myths that I describe as the sub-Labors of the hero. In my posting for 2019.08.15, abbreviated here simply as TC IV, I listed all twelve of the Labors and most of the numerous sub-Labors as narrated by Diodorus of Sicily, who is dated to the first century BCE. And then, in my posting for 2019.08.22, TC V, I commented on three sub-Labors—this time as narrated in the text of "Apollodorus," dated to the second century CE. Here, in TC VI, I will comment on some further sub-Labors as narrated by both Diodorus and "Apollodorus," comparing them with the twelve Labors. All along, I will keep one general question foremost in mind: are the sub-Labors of Hēraklēs really different from his Labors? In attempting an answer to this question, I will focus on one sub-Labor and one Labor, both of which are narrated by "Apollodorus." In the case of the sub-Labor, it is a story that tells how the hero Hēraklēs hunted down and killed with a weapon the Lion of Cithaeron. In the case of the Labor, it is a story that tells how this hero killed with his bare hands the Lion of Nemea by way of a choke-hold—I deliberately use here language that fits the athletic terminology of wrestling. In the illustration for introducing my essay, I show a copy of a picture engraved into a Mycenaean gem, and this picture will turn out to be relevant to my argument, which is, that the stories about the Lion of Cithaeron and the Lion of Nemea both stem from a Mycenaean phase in the reception of myths about Hēraklēs.
[
Essay continues here…
]