Posts Tagged by
Megara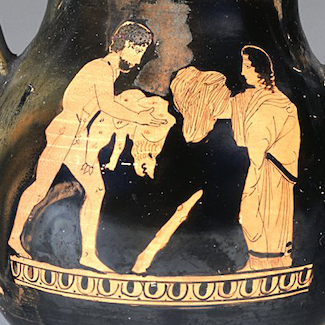 2019.09.20 | By Gregory Nagy
§0. Picking up from where I left off in my essay TC VIII in Classical Inquiries 2019.09.13, I continue here in TC IX with further observations about difficulties or "rough patches" to be encountered in any attempt to reconstruct a prototype for the hero Hēraklēs on the basis of the various different ancient Greek myths that were told about him. Such difficulties, as we just saw in TC VIII, can be traced back to the myths themselves, which occasionally reveal inconsistencies that were never completely smoothed over in the traditions of ancient Greek mythmaking. Some of these inconsistencies have to do with contradictions in details, which can usually be explained as resulting from localized variations in mythmaking, as for example when Hēraklēs performs a short-term service for the king Augeias of Elis—a service that is in some ways different, from the standpoint of our hero's overall "program" of Labors, from the long-term services that Hēraklēs performs for the king Eurystheus of Mycenae. But there are also other cases where the inconsistencies had been built into the myths themselves. Such cases center on contradictions that reflect badly on the "good character" of the hero, as for example when Hēraklēs becomes an exponent of "vice"—in stark contrast to his conventional reputation as an exponent of "virtue." To illustrate a moment in the life of Hēraklēs where we see such an exceptionally negative side of the hero, I show here an ancient vase painting where Hēraklēs is pictured in the act of giving up his lionskin, trading it in, as it were, so that he may now wear instead an ultimately deadly robe that is smeared with the excretions of a vicious Centaur. This act of exchanging the heroic lionskin for a robe of death is symbolic, as we will see, of what is recognized by experts in comparative mythology as one of the three great "sins" committed by Hēraklēs in his lifetime.
[
Essay continues here…
]

2018.06.21 | By Gregory Nagy
§0. When Phaedra sees Hippolytus for the very first time, she is already falling in love with him. That is what Pausanias seems to be saying as he retells the myth. The ancient Greek word that he uses in this context is erasthēnai, which is conventionally translated as 'fall in love with'. I think, however, that this translation can be misleading—unless the relevant contexts are explained from an anthropological perspective. I attempt such an explanation here. Relevant is an observation once advanced by the anthropologist Julian Pitt-Rivers (1970:870 n. 5) in an article he wrote for a Festschrift honoring Claude Lévi-Strauss: some "brave" person, he said, should write a study on the anthropology of love or, let me say it this way, of falling in love. I attempt here some preliminaries to such a study as I now proceed to ask this question: what's love got to do with it?
[
Essay continues here…
]

2018.05.25 | By Gregory Nagy
The Greek name for the mythological figure whom we recognize as the White Goddess was Leukotheā—a name that actually means 'white goddess'. In the ancient myths that tell about this figure, however, she was not always a goddess: once upon a time, she was a mortal woman named Ino, wife of the hero Athamas and mother of the child-hero Melikertes. This Ino was considered to be a hero in her own right: she was in fact worshipped as a cult hero in the city of Megara, as we read in the text of the ancient traveler Pausanias, who lived in the second century CE. When our traveler visited Megara, he saw there a hērōion 'hero-shrine' that had been built in honor of Ino. But, Pausanias adds, this female hero was also known in Megara as the White Goddess. How can that be? In the present posting, I offer a possible explanation.
[
Essay continues here…
]