Posts Tagged by
metonymy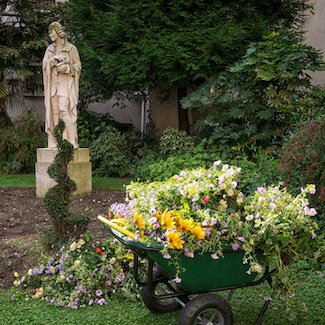 2020.06.05 | By Gregory Nagy
§0. In the Candide of Voltaire, first published in 1759, the last words famously read: mais il faut cultiver notre jardin 'but we must cultivate our garden'. Following such a mandate, I return here to cultivate a garden of my own delights—the idea of the ancient Library of Alexandria as a garden of the Muses. The occasion for my return is a feast day of sorts, a Festival of the Muses, celebrated in June 2020 at the Center for Hellenic Studies in its own lush garden, virtual as well as real.
[
Essay continues here…
]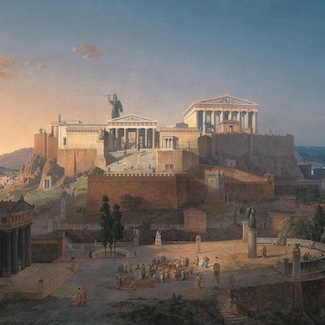 2020.05.08 | By Gregory Nagy
§0. In the previous posting, Classical Inquiries 2020.05.01, I asked this question: is 'Athena' the name of a person or of a place? And my answer was: 'Athena' is the name of a place that we know as Athens. I backed up that answer by arguing against the assumption that the city of Athens was named after a goddess who was already named 'Athena'. Rather, I argued for a different idea: that the goddess Athena was named after Athens—or, to be more precise, after the citadel or acropolis of Athens. But that is not the same thing as arguing that Athens came first, as it were, and that the goddess named Athena came second. I was making an argument about the name of Athena, not about her identity. And, as I argue more fully in this posting, it is only the naming of the goddess as Athena that came second, but the idea of the goddess came first: she was already there, if we view her theologically. The goddess seems secondary only if we make the mistake of equating her name with who she is as a goddess, as a divinity who is worshipped by her people. As a goddess, Athena is her own person, whatever her name may be. It is only when we view her name etymologically, that is, from the standpoint of linguistics, that Athḗnē can be explained as the name of a place. Yes, the name is a place-name, as I showed in the previous posting. But she is not the name. As I just said, she is her own person. And, as a person, as a divine persona, she personifies whatever is mentally connected with her. In the painting I have chosen for the lead illustration, we view the solitary goddess looming over her acropolis. Her bronze statue, no longer extant, is seen here in the eternal role of this goddess as guardian of her city and her people. That is how she connects with her own space, and with everything that she personifies in that space.
[
Essay continues here…
]