Posts Tagged by
Muses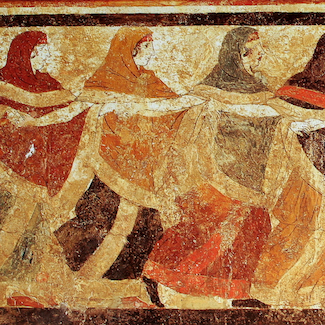 2020.06.11 | By Domenico Giuseppe Muscianisi
§0. The Pythian movement of the Homeric Hymn to Apollo opens with a great scene of song-and-dance on Olympus (verses 182–206), where certain deities perform together. I will argue that choral melic poetry plays a prime role in this section of the Hymn: in fact, these verses share many features in diction and imagery with melic poetry, and in addition they describe a choral scene with its performative processes and hierarchies. The predominant image is that of the circle, from the poetic structure of the passage to the description of the dance performed and beyond. The circular shape reflects, first, Delphi as the Navel of the World, the most important Oracle in the Mediterranean, and, second, the "wheel of the sun" and its rays/spokes celebrating the glory of Apollo and the Arts. The latter image appears in the most beautiful modern staging of the Homeric Hymn to Apollo: Ballet Apollon Musagète (then Apollo) by George Balanchine, one the most important choreographers of the 20th century and founder of ballet in the United States of America.
[
Essay continues here…
]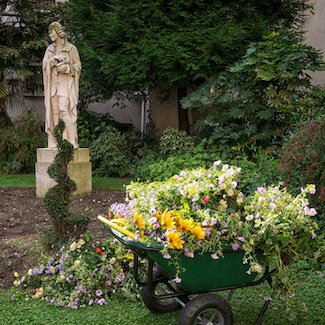 2020.06.05 | By Gregory Nagy
§0. In the Candide of Voltaire, first published in 1759, the last words famously read: mais il faut cultiver notre jardin 'but we must cultivate our garden'. Following such a mandate, I return here to cultivate a garden of my own delights—the idea of the ancient Library of Alexandria as a garden of the Muses. The occasion for my return is a feast day of sorts, a Festival of the Muses, celebrated in June 2020 at the Center for Hellenic Studies in its own lush garden, virtual as well as real.
[
Essay continues here…
]

2018.08.16 | By Gregory Nagy
§0. Working on A sampling of comments on the Homeric Iliad and Odyssey, I have made revisions, concentrating on the need to fill some gaps in my analysis of Homeric poetry. Here I focus on a set of revisions centering on the Muse who is invoked by the Master Narrator in Iliad 1, at the very beginning of the epic. What led to these particular revisions in the first place was a question I was asking myself: why does this singular Muse in Iliad 1 get re-invoked in Iliad 2 as a set of multiple Muses? I have no solution as of yet, but at least the revisions I have made in my comments point toward a hoped-for answer from the re-invoked Muse herself. The illustrations that I have chosen for my post here are suggestive of the answer I am hoping for: possibly the singular Muse is Calliope, divine mother of Orpheus. I am not the first, and I will surely not be the last, to argue that Calliope is the originating Muse of the Iliad, but my reasoning, however tentative, has its own merits, I think.
[
Essay continues here…
]