Posts Tagged by
Olympia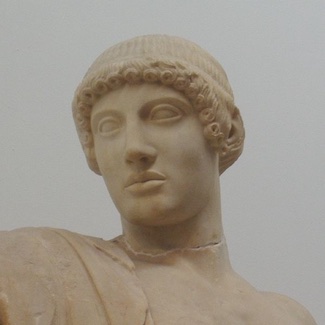 2019.03.22, rewritten 2019.04.17; further rewritten 2019.07.20 | By Gregory Nagy
§0. I have by now lost count of how many times in my life I have visited the Museum at Olympia. And I cannot keep track of knowing what different things I remembered to view, or forgot to view, each time I was there. But there is one thing I know for sure as I look back on it all: each and every time I have visited that museum, I have never missed the chance of viewing the surviving fragments of the spectacular sculptures that had once upon a time adorned the east and the west pediments of the temple. In the second century of our era, the traveler Pausanias had viewed those same sculptures—and he saw them in all their unfragmented glory as he looked up at them from down below at ground zero. There they were, looming over him from on high, framed within the east and the west pediments of the lofty temple. I highlight here one of the many details he saw as he looked up to view those marvels of classical sculpture. It is the head of a male figure sculpted into the center of the west pediment.
[
Essay continues here…
]

2018.03.22 | By Gregory Nagy
This new reader, posted 2018.03.22, "decorates" an earlier reader posted 2018.03.07. As I once tried to explain by way of simile, the earlier reader was like a Christmas tree waiting to be decorated with ornaments. But now I adjust the simile by comparing the new reader to that famous plane tree so loved by Xerxes, mighty ruler of the Persian Empire, which he honored as his very own Tree of Life by decorating it with ornamentation fit for a king—or, better, for a king of kings. The fame of the king's beloved plane tree has been perpetuated by the corresponding fame of an aria composed by Handel for his opera about Xerxes. This aria, loved by lovers of music worldwide, features the intense countertenor voice of the king himself singing his song of adoration for his beloved plane tree: Ombra mai fu | di vegetabile, | cara ed amabile, | soave più. 'Shade there never was | of any plant | so dear and lovely | or any more sweet'. To my mind, a fitting new symbol of this musical object of love may well be the plane tree gracing a corner of Syntagma Square in Nafplio: under its shade flourish countless memories of happy conversations about unforgettable travels in Hellenic realms. Such memories are now being encoded in the ornamentation for a new Tree of Life. The "ornaments" consist of photos, videos, and written comments contributed by fellow-travelers who participated in a travel-study program described in what follows.
[
Essay continues here…
]
← Newer Posts