Posts Tagged by
Samos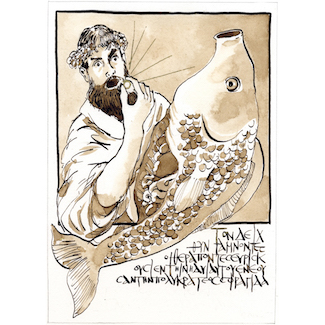 2020.01.24 | By Gregory Nagy
§0. There is a story about a scribe who succeeded in seizing political power, at least for a while, precisely because he was a scribe. And this scribe could not have had even such a limited degree of success if he had not been a scribe. His name was Maiandrios son of Maiandrios, and his story is told by Herodotus, so-called father of history. According to Herodotus (3.120–128, 140–149), Maiandrios was a scribe working for a powerful tyrant named Polycrates, who once ruled over the Greek island-state of Samos, politically configured as one single colossal polis or city-state. In the era of this tyrant, as Herodotus remarks (3.139.1), Samos was the greatest of all the great cities of the Greek-speaking and non-Greek-speaking worlds combined. But all this greatness came to a violent end after Polycrates was treacherously captured and executed in 522 BCE by order of a Persian official named Oroites, satrap of Sardis, who at that point in time ruled over most of mainland Asia Minor in the name of the Persian Empire. At some later point in time, however, probably soon thereafter, the rule of this satrap likewise came to a violent end: Oroites was assassinated by order of Darius, new king of the entire Persian Empire. And then, soon after the deaths of Polycrates tyrant of Samos and of Oroites satrap of Sardis, Darius forcibly annexed Samos, making it part of his Persian Empire and installing Syloson, brother of Polycrates, as the new ruler of the island. It is in this context that Herodotus makes his remark (again, 3.139.1) describing Samos as the greatest of all cities—the greatest, that is, until the annexation of this Ionic Greek island-state by the Persian Empire. But there was a brief interlude, as Herodotus also remarks (3.142.1), of lingering greatness after the death of the tyrant Polycrates and before the Persian annexation of Samos by Darius. For a short time—it is not clear how short a time—the kratos 'power' that had once been held by the tyrant Polycrates, whose very name Polu-krátēs means 'the man who has much power', was now being held by Maiandrios, the scribe of the tyrant. I highlight the Greek word that Herodotus actually uses in this context (again, 3.142.1), kratos, when he refers to the 'power' held by a scribe in this era, around the middle of the first millennium BCE. Such power is comparable to some far earlier examples of scribal power, dating from the second millennium BCE and attested in a wide variety of locales throughout the Mediterranean and the Near East. And a symbol of such power, as I will argue briefly, is to be found in a related story, also told by Herodotus (3.41–43), about the sphrēgīs or 'signet-ring' of Polycrates.
[
Essay continues here…
]

2019.06.07 | By Gregory Nagy
§0. In Part 2 here, I pick up from where I left off in Part 1, where I studied the possibilities of convergence as well as divergence between fables that focus primarily on beasts as talking characters and other fables where the only talking characters are humans. Here I extend the study, analyzing a special kind of convergence that we find in a fable retold by a character featured in a comedy of Aristophanes. The fable involves Aesop himself as one of the only two characters featured in the story, and he is actually the only talking character in this particular case, since the other character does not talk at all but only barks: she is a nasty beast of a dog who threatens to attack Aesop, barking at him furiously. It is as if Aesop were some devious thief—the kind we see in the illustration for this posting.
[
Essay continues here…
]

2017.09.08 | By Gregory Nagy
Paper presented at the symposium "Culture and Society in 'the Lyric age' of Greece": A Joint Conference with the European Network for the Study of Ancient Greek History and the Network for the Study of Archaic and Classical Greek Song, Princeton University, September 8–9, 2017.
[
Essay continues here…
]