Posts Tagged by
synchronic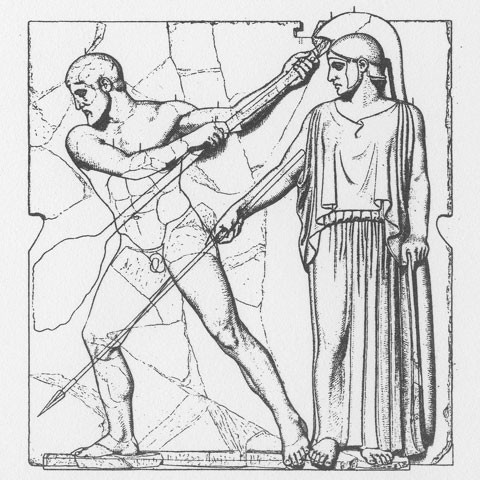 2019.08.22 | By Gregory Nagy
§0. Previously, in "Thinking comparatively about Greek mythology IV," hereafter abbreviated as TC IV, I was reconstructing the mythological persona of the Greek hero Hēraklēs by tracing him backward in time, back to the earliest reconstructable phases of myths that told his story. Here in TC V, I will trace such myths forward in time, and I will start my procedure of "reconstructing forward" by concentrating on the earliest phases of myths telling of deeds performed by Hēraklēs in the service of kings. A case in point will be a mythological persona by the name of Augeias (the latinized spelling is Augeas), king of Elis. As I noted in TC IV, Hēraklēs is pictured in the act of performing a service for this king in the sculptural ensemble of Metope 12 in the Temple of Zeus at Olympia. But what is the hero actually doing here? Well, he is in the middle of shoveling an immeasurable accumulation of manure produced by countless cattle in the Stables of Augeias. I show here a line drawing and, later on in this essay, I will analyze the relevance of what is being pictured.
[
Essay continues here…
]

2017.03.23 | By Gregory Nagy
A paper presented on March 11, 2017, at the Stoá tou Vivlíou in Athens as part of a conference hosted by the Society for the Promotion of Education and Learning.
[
Essay continues here…
]