Posts Tagged by
Thetis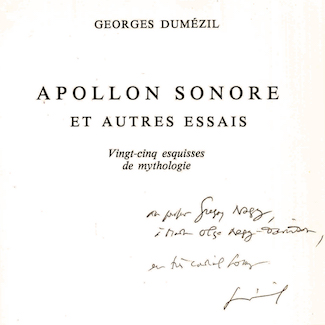 2020.02.14 | By Gregory Nagy
§0. The posting for today, Valentine's Day 2020.02.14, marks the fifth anniversary of my consecutive weekly postings for Classical Inquiries. I think of the new posting here as the beginning of a lengthy new series of intermittent comments on comparative mythology, modeled on the Esquisses de mythologie of Georges Dumézil; there were, in all, one hundred such mythological "sketches," published in four volumes, each containing twenty-five Esquisses, in 1982, 1983, 1985, and, finally, in 1994—almost a decade after his death in 1986. I have fond memories of receiving a parcel, back in 1982, containing a copy of the first of these four volumes, Apollon sonore, inscribed by Dumézil with greetings not only to me but also to Olga/Holly, that is, to "madame Olga Nagy-Davidson"—as he used to call her in his inimitably courtly style. I was just looking through Holly's shelves and found that old book, a treasured present from a mentor who had given so much support and encouragement to her in Paris when she was starting off on her own projects in comparative mythology. With Holly's permission I share for the main illustration in this posting here a photocopy of the front page of our weathered copy of Apollon sonore, where Dumézil had penned his inscription. In a tribute to Holly's comparative studies, written by me on a previous Valentine's Day, in Classical Inquiries 2018.02.14, I reminisced at 1§§13–14 about even earlier happy times, in 1974, when Holly and I, before we really even knew each other all that well, were already reading together the original 1968 version of Dumézil's Mythe et épopée I. As I wrote in those reminiscences, "you can begin to see how the academic as well as personal lives of OMD and GN were converging rapidly—and how the thinking of Dumézil can even be viewed here as some kind of dart sent by Cupid himself." Maybe I exaggerate, but the sentiments were there, and they seem to me most apt for restatement even now, on the occasion of yet another Valentine's Day.
[
Essay continues here…
]

2015.10.29 | By Gregory Nagy
In this posting, I show the thinking that went into a self-evaluation exercise that I had put together for "Heroes X." In putting together the wording for this exercise as I wrote it in 2013, I was thinking of things that never made it into the book version. So, my thinking about Iliad 18.54–56 is being shared here in public for the very first time.
[
Essay continues here…
]

2015.06.10 | By Gregory Nagy
This posting of 2015.06.10 continues from where I left off in the posting of 2015.06.03, where I was focusing on the audience's reception of the first song of Demodokos. The song, as we saw, is paraphrased at verses 72–83 of Odyssey 8; and the reception, as we also saw, is described at verses 83–92, which I translated and analyzed in the previous post.
[
Essay continues here…
]