Category:
In medias res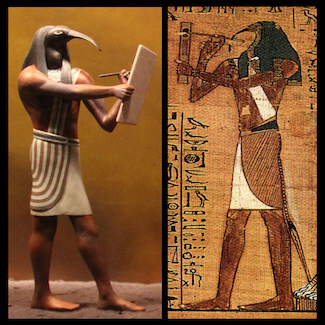 2019.12.12 | By Gregory Nagy
§0. In the second illustration for my posting in Classical Inquiries 2019.11.22, I showed a picture of the ancient Egyptian divinity Thoth, who is the god of scribes and, more generally, of writing and wisdom. The picture shows him in the act of writing. This picture is a photograph of a three-dimensional model created in modern times as a re-enactment of a two-dimensional picture painted within the text of an ancient papyrus. In the cover illustration for the posting here for 2019.12.12, I show the same picture of the modern three-dimensional Thoth, but, this time, I place it to the left of another picture of the same god Thoth. And this other picture on the right is a photograph of a two-dimensional painting —a picture painted within the text of another ancient papyrus, the Papyrus of Ani, housed in the British Museum. What I hope to argue here is that the two pictures of the ibis-headed god Thoth as originally painted in the two ancient Egyptian papyri (and in many other papyri) show him in the act of producing a text that is directly relevant to the texts of the papyri. In the course of planning my argumentation, I initiated a dialogue, by way of e-mail, with a noted Egyptologist, Hana Navratilova, about questions of writing and rewriting by scribes. In the course of our e-dialogue, I had in mind one underlying question in particular: is the idea of Thoth as the divine model of scribes parallel to the idea of an authorized "fair copy"? By implication, the writing of a notionally perfect text by the divine model as scribe requires perfectionism on the part of imperfect mortal scribes who must copy the original text, perfect as it is. And the assurance of perfection would have to come from Thoth, that otherworldly scribe who is seen in the act of producing his own otherworldly text.
[
Essay continues here…
]

2018.06.06 | By Natasha Bershadsky, Andrea Debiasi, Douglas Frame, and Gregory Nagy
In the following representation of an email conversation that took place May 6 – June 2, 2018, Natasha Bershadsky, Gregory Nagy, Douglas Frame, and Andrea Debiasi engage in an intergenerational exchange of research, debating the vexed question of the nature of the Lelantine War, working out its connections with the Samian epic The Sack of Oikhalia and with poetic traditions of Homer and Hesiod.
[
Essay continues here…
]