Category:
Pausanias commentary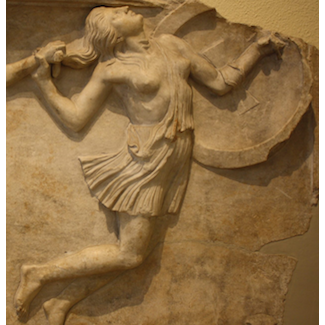 2018.01.11 | By Gregory Nagy
I continue from where I left off in Classical Inquiries 2018.01.04. I focus here on a passing mention made by Pausanias at 1.17.2 about the picturing of a famous mythological scene: it is the Battle of the Athenians and Amazons, known in other ancient sources as the Amazonomakhiā 'Amazonomachy'. I have already commented on previous references made by Pausanias, at 1.2.1 and at 1.15.2, to the fighting between the Amazons and the Athenians as led by their hero-king Theseus. Here at 1.17.2, Pausanias mentions a picturing of the Amazonomachy by the great Athenian artist Pheidias. For the cover illustration, I have chosen a close-up of a detail from the Amazonomachy as originally pictured by Pheidias. The detail comes from the so-called Peiraieus Reliefs, dating from the second century CE, which replicate faithfully what was pictured in the Amazonomachy of Pheidias in the fifth century BCE. We see in this detail a fleeing Amazon whose head is violently jerked backward by a pursuing Athenian who has grabbed from behind the woman's hair, which has come undone and is flowing luxuriantly in the air.
[
Essay continues here…
]
← Newer Posts
|
Older Posts →