Posts Tagged by
Gaia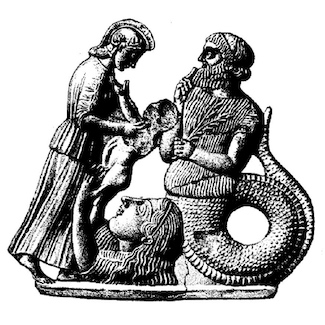 2020.04.10 | By Gregory Nagy
§0. My essay here concentrates on myths about two Greek goddesses and on their roles as mothers or would-be mothers:
(A) The first goddess is Hērā in her role as mother or would-be mother of a serpentine Titan by the name of Typhon, alternatively called Typhoeus, who is destined to become a most dangerous menace to the sovereignty of Zeus.
(B) The second goddess is Athena in her role as would-be mother of a serpentine human by the name of Erikhthonios, alternatively called Erekhtheus, who is destined to become the ancestor of all Greeks native to the city of Athens. The ancient image that I choose as the lead-off illustration shows another goddess, Gaia/Ge or Mother Earth herself, who is seen emerging from underground and presenting her very own baby boy to the goddess Athena, who receives the child. Athena will raise the baby in her role as mother of a son she "never" had. Looking on, in the same image, is a figure whose upper half is human while his lower half is serpentine. He is known as Kekrops to the people of Athens. In this version of the many surviving visual representations of such a scene, the baby boy is not marked by any overtly serpentine features. In other versions, however, as we will see, the baby too, like Kekrops, is pictured as half-human, half-serpent.
[
Essay continues here…
]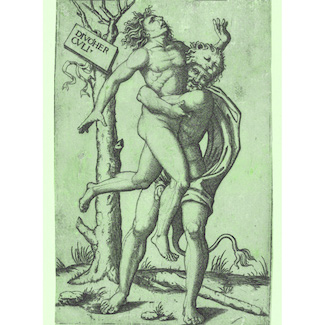 2019.07.19 | By Gregory Nagy
§0. As I argued in the previous posting, Classical Inquiries 2019.07.12, the name of Olympia as a setting for the myth about the founding of the Olympics by Hēraklēs is linked with the name of Mount Olympus as the setting for the myth about the immortalization of this hero after death. In the present posting here, 2019.07.19, I take the argument further: the various different versions of the myth about the founding of the Olympics by this same hero reveal a Mycenaean background for the figuring of Hēraklēs himself as a model for athletes competing at the Olympics in particular and at any other athletic festival in general. I say "a Mycenaean background" and not "Mycenaean origins" for reasons I will explain in what follows. These reasons, as we will see, have to do with methodologies I generally use in my various efforts to reconstruct the past. As for the actual argument I am about to offer, the image I show at the very start of this posting is directly relevant. What we see here is the picturing, by a Renaiassance artist, of a celebrated ancient myth that told about a primordial athletic event: it was a wrestling match between Hēraklēs and a homicidal ogre named Antaios, who was figured as an enemy of the civilized world.
[
Essay continues here…
]