Posts Tagged by
Hesiodic Works and Days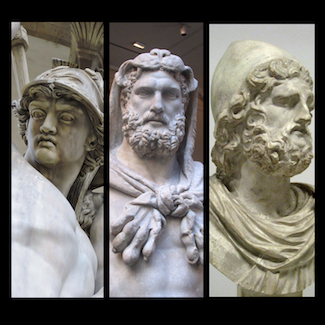 2019.10.04 | By Gregory Nagy
§0. This essay, dated 2019.10.04, for which I give the abbreviated title TC XI, continues from the essay TC X, dated 2019.09.27, the subtitle for which was "A Homeric lens for viewing Hēraklēs." In the subtitle for TC XI here, "Homeric marginalizations of Hēraklēs as an epic hero," I view the term "Homeric" more narrowly than the term "epic." To put it more accurately, I view Homeric poetry is a special kind of Greek epic poetry, not the general kind as reconstructed by way of comparative philology. And my point is that the heroic character of Hēraklēs, while he is central to epic poetry as reconstructed by comparatists, has become marginalized in Homeric poetry, where the central heroic characters are Achilles and Odysseus. In the illustration for my essay here, I show by way of a three-part picture this trio of heroes—Achilles, Hēraklēs, Odysseus—as imagined by artists. I have positioned Hēraklēs at the center of the three-part picture, indicating this hero's centrality in the epic tradition inherited by Homeric poetry. In terms of the point I am making in this essay, however, Homeric poetry would have squeezed out Hēraklēs from the center of our three-part picture, and we would now have to look for him at the two margins of what could now be rethought as a four-part picture. So, we would now find Hēraklēs to the left of Achilles and we would find another Hēraklēs to the right of Odysseus. In Homeric poetry, after, all, Hēraklēs no longer has a single central role but rather a dual marginal role, both as an older version of Achilles and as an older version of Odysseus.
[
Essay continues here…
]

2019.06.21 | By Gregory Nagy
§0. In what is generally agreed to be the earliest attestation of a fable in Greek literature, we read about a hawk that has just captured another bird. The fable is embedded in the Hesiodic Works and Days, lines 202–212, where the captor is boastfully saying to his captive that he has the power to do anything with his prey. Since the hawk is a predatory bird, we can already guess what he will say next in the story. And he does say it: I have the power to devour you. In the illustration for this posting, I show a logical ending for such a story: we see a hawk, with beak already dripping with blood, as he starts feasting on a bird he has just caught. In terms of the fable, as I will argue, the hawk is like a predatory strongman, feasting on the lives of his fellow humans—since he has power over them. But there is more to the story, as I hope to show.
[
Essay continues here…
]