Posts Tagged by
Peirithoös

2019.04.26 | By Gregory Nagy
§0. In today's popular thinking, it is all too easy to assume that the Centaurs of Greek mythology are bad, one and all. And such an assumption seems justifiable when we consider the myths that I analyzed in two previous essays posted in Classical Inquiries, 2019.04.19 and 2019.03.22. Yes, Centaurs must be bad, since they are misfits who disrupt society. But the whimsical question posed in the title of this essay, "how to be a good Centaur," challenges the assumption that all Centaurs are bad. I will argue that Centaurs in myth can in fact be good so long as they are not in a group—so long as they are not members of a gang. To be good, a Centaur must be solitary. A prime example is the Centaur named Cheiron, who becomes a mentor of Achilles, initiating the boy hero into adulthood. While the myth about this solitary Centaur is obviously a positive model of initiation, I will argue for something more, something that is far less obvious: there is a complementarity to be found in myths about Centaurs as a gang. Such myths, in anthropological terms, are negative models of initiation, and they actually complement the positive models.
[
Essay continues here…
]

2019.04.19 | By Gregory Nagy
§0.This posting, written 2019.04.19, picks up from where I left off in Classical Inquiries 2019.03.22, rewritten 2019.04.17. In the last paragraph of that posting, I focused on a myth that told about a defeat of the Centaurs, beastly hominoids who were half horse, half man. Such a mythological event is pictured in the sculptures of the west pediment of the temple of Zeus in Olympia, created around the middle of the fifth century BCE. And I have a basic question to ask about the picturing of this event: in our own reading, as it were, of the pedimental sculptures, who exactly were the mythological characters who defeated the Centaurs? In other words, how are we to imagine this primal event?
[
Essay continues here…
]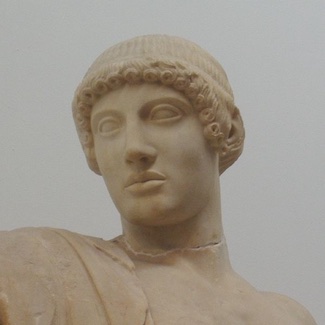 2019.03.22, rewritten 2019.04.17; further rewritten 2019.07.20 | By Gregory Nagy
§0. I have by now lost count of how many times in my life I have visited the Museum at Olympia. And I cannot keep track of knowing what different things I remembered to view, or forgot to view, each time I was there. But there is one thing I know for sure as I look back on it all: each and every time I have visited that museum, I have never missed the chance of viewing the surviving fragments of the spectacular sculptures that had once upon a time adorned the east and the west pediments of the temple. In the second century of our era, the traveler Pausanias had viewed those same sculptures—and he saw them in all their unfragmented glory as he looked up at them from down below at ground zero. There they were, looming over him from on high, framed within the east and the west pediments of the lofty temple. I highlight here one of the many details he saw as he looked up to view those marvels of classical sculpture. It is the head of a male figure sculpted into the center of the west pediment.
[
Essay continues here…
]