Posts Tagged by
Virgil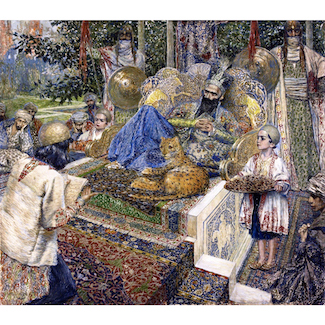 2020.03.02 | By Olga M. Davidson
The focus here is on two Persianate texts. The first is the monumental poem of a poet retrospectively named Ferdowsi, or 'man of paradise', who lived in the late 10th and early 11th century CE. The second text is in prose: it is a comparably monumental preface to a lavish new edition of the Shahnama that was commissioned in 1426 CE and published in 1430 under the aegis of a Timurid prince named Bāysonghor. The preface, likewise commissioned by the prince, asserts that the Shahnama is a model of ecumenism and globalism for readers of this new edition, produced over 400 years after the poem of Ferdowsi was first put together.
[
Essay continues here…
]

2019.06.05 | By Manon Brouillet
§1. In 1966 the popular French singer Michel Polnareff reached his first audience with the song La Poupée qui fait non. A big success, the song has been translated into Italian ("Una bambolina che fa no, no, no"), Spanish ("Muñeca que hace no"), and German ("Meine Puppe sagt non"). This doll, who has never learnt to say yes, keeps shaking her head from side to side to express her refusal, at the great despair of the singer who cannot but wait for a sign of acceptance.
[
Essay continues here…
]

2016.12.09 / updated 2018.09.20 | By Gregory Nagy
By now Achilles has a new set of armor, and he is ready to fight the Trojans. But his first major opponent seems to be a distraction. At least, our initial impression may lead us to think that there is a distraction going on here. The first major opponent of Achilles in Iliad 20 is Aeneas, hero of epic traditions that eventually became absorbed into the Aeneid of Virgil. Is this hero, we may ask, a truly worthy opponent of Achilles? Are the epic traditions that figure this son of Aphrodite / Venus truly worthy of the epic that is the Homeric Iliad? Once we examine more closely the oldest Greek epic traditions of Aeneas, it will become clear that this hero is indeed a most important opponent of Achilles, in that he represents ancient Greek epic traditions that are different from and antithetical to the epic tradition that prevailed in the Homeric Iliad as we know it. Not only does Aeneas challenge Achilles: even the epic traditions that figure Aeneas will challenge the epic traditions that figure Achilles. To say it another way, Aeneas represents a proto-Aeneid that challenges the proto-Iliad of Achilles. What makes Aeneas and his Aeneid—or, better, Aeneids—such a formidable challenge to Achilles is the enormous political prestige of the epic tradition that backs up Aeneas. By virtue of being the son of Aphrodite/Venus, Aeneas possesses a genealogical and dynastic charisma that threatens to overshadow the purely epic charisma of his Iliadic opponent Achilles.
[
Essay continues here…
]