Posts Tagged by
Will of Zeus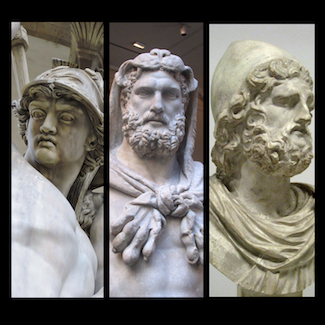 2019.10.04 | By Gregory Nagy
§0. This essay, dated 2019.10.04, for which I give the abbreviated title TC XI, continues from the essay TC X, dated 2019.09.27, the subtitle for which was "A Homeric lens for viewing Hēraklēs." In the subtitle for TC XI here, "Homeric marginalizations of Hēraklēs as an epic hero," I view the term "Homeric" more narrowly than the term "epic." To put it more accurately, I view Homeric poetry is a special kind of Greek epic poetry, not the general kind as reconstructed by way of comparative philology. And my point is that the heroic character of Hēraklēs, while he is central to epic poetry as reconstructed by comparatists, has become marginalized in Homeric poetry, where the central heroic characters are Achilles and Odysseus. In the illustration for my essay here, I show by way of a three-part picture this trio of heroes—Achilles, Hēraklēs, Odysseus—as imagined by artists. I have positioned Hēraklēs at the center of the three-part picture, indicating this hero's centrality in the epic tradition inherited by Homeric poetry. In terms of the point I am making in this essay, however, Homeric poetry would have squeezed out Hēraklēs from the center of our three-part picture, and we would now have to look for him at the two margins of what could now be rethought as a four-part picture. So, we would now find Hēraklēs to the left of Achilles and we would find another Hēraklēs to the right of Odysseus. In Homeric poetry, after, all, Hēraklēs no longer has a single central role but rather a dual marginal role, both as an older version of Achilles and as an older version of Odysseus.
[
Essay continues here…
]

2016.05.26 | By Gregory Nagy
For almost fifty years now, I have been consistently translating the Homeric expression Dios boulē, which we find at the beginning of the Iliad (1.5), as 'the Will of Zeus', not as 'the Plan of Zeus'. To put it in terms of what I have published, I have been consistent in using the expression 'the Will of Zeus' instead of 'the Plan of Zeus' in four books of mine that deal primarily with Homeric poetry. On the other hand, I switched to translating Dios boulē consistently as 'the Plan of Zeus' in two other books of mine. I see no contradiction here, since I have always understood the Will of Zeus to be the functional equivalent of the plot that gives shape to any given epic, and that is how the Will of Zeus can be understood to be the same thing as the Plan of Zeus. But there was still a specific reason for my switching my translation in the two books I just mentioned, and that was because I needed to concentrate on the differences in plot that we see at work in two different epics, that is, in the Homeric Iliad and in the Cypria of the epic Cycle. In terms of equating the plot of an epic with the Plan of Zeus, we see here two different plots corresponding to two different Plans of Zeus. But is the difference here mutually contradictory? We may be tempted to answer "yes," guessing that any mutual contradictions in constructing the plots of different epics may be not all that much of a problem for different poets, but I will argue that such a guess underestimates the theological importance of the Will of Zeus as an idea that fueled the very essence of epic in Homeric poetry and beyond. It is one thing to think that there can exist, say, two mutually contradictory Plans of Zeus, but it is quite another thing to imagine that Zeus could contradict himself in expressing his Will. The Will or Plan of Zeus, I argue, needs to be read as a theological idea. It is not only a poetic idea. And if the Will or Plan of Zeus is a theological as well as a poetic idea, I further argue, the initial impression of mutual contradiction between the plots of the Iliad and the Cypria may be dispelled. Zeus may have different Plans at different times, but his Will may still be seen as constant, fully consistent with the cosmos over which he presides.
[
Essay continues here…
]