Posts Tagged by
Hera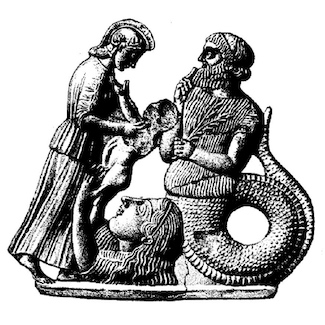 2020.04.10 | By Gregory Nagy
§0. My essay here concentrates on myths about two Greek goddesses and on their roles as mothers or would-be mothers:
(A) The first goddess is Hērā in her role as mother or would-be mother of a serpentine Titan by the name of Typhon, alternatively called Typhoeus, who is destined to become a most dangerous menace to the sovereignty of Zeus.
(B) The second goddess is Athena in her role as would-be mother of a serpentine human by the name of Erikhthonios, alternatively called Erekhtheus, who is destined to become the ancestor of all Greeks native to the city of Athens. The ancient image that I choose as the lead-off illustration shows another goddess, Gaia/Ge or Mother Earth herself, who is seen emerging from underground and presenting her very own baby boy to the goddess Athena, who receives the child. Athena will raise the baby in her role as mother of a son she "never" had. Looking on, in the same image, is a figure whose upper half is human while his lower half is serpentine. He is known as Kekrops to the people of Athens. In this version of the many surviving visual representations of such a scene, the baby boy is not marked by any overtly serpentine features. In other versions, however, as we will see, the baby too, like Kekrops, is pictured as half-human, half-serpent.
[
Essay continues here…
]
Older Posts →